She started with nothing other than three young children to support and went on to become the designer to queens. Sangeetha Shinde talks to Hana Sadiq, the lady who turned Arabic art and culture into wearable luxury and built a business that took the world's fashion runways by storm.
She was born in Iraq and married a Frenchman who first lost his job and then his life. As a young widow with no family to help her (they had all been lost to the ravages of war in Iraq), she fell into the world of haute couture by chance rather than design. However, Hana Sadiq had always nurtured a passion for art and anthropology. In her travels around the Arabic world, from Morocco to Yemen, her keen interest in all things fabric and jeweler-related resulted in her studying these aspects of design in the most detailed of ways. She studied the roots of the designs in traditional costumes, handpicked antique and interesting pieces, and began to create costumes for herself that linked the common threads that lay in the embroidery and design between the various countries she visited.
At the Jerash Festival in Jordan her unique ensemble was noticed by Queen Noor of Jordan who asked her to design a few traditional costumes for her, and from then on there was no looking back. And it all began from her home in Amman in Jordan which housed her atelier, and from where she still retails to an exclusive and discerning global clientele. Over the years, Hana has carved a niche for herself as not just a designer of exceptional caliber but as an intellectual who has taken the intricacies of Arab artistry into palaces, institutions, and academic circles.
It was not easy starting out, managing the daily stresses of a business as well as raising her family, but Hana does all things with exceptional grace. She says in her beautifully modulated voice that carries with it a hint of Arabic exoticism and French flair, "I now look back on this as chance, but believe this is what I was meant to do. I started by creating beautiful dresses of high value, and this is because I have utter respect for the beauty that is contained within the Arabic traditions of art and design." Hana did not have a business model or a business plan. She had no investors or accelerator programs to help her get started. What she did have was a passion, a need to earn, and the will to make a success of her life, interests, and talents.
At the Jerash Festival in Jordan, her unique ensemble was noticed by Queen Noor of Jordan who asked her to design a few traditional costumes for her
Runway success
Unsurprisingly her fine work and dedication has earned her global recognition and she is invited regularly to participate in high-end, international runway shows to showcase her work. She was asked to exhibit her work back in her home country of Iraq twenty-five years after leaving it, and going back after over two decades was a poignant experience. She went at the invitation of the Minister of Culture and her work received much acclaim but, despite the professional glory she received, she says she was saddened to see the effects of the war on the country of her birth. It was a sadness she encountered in many places she traveled to in search of her design ideas and fabrics. War devastates design," she says, her voice dropping. "Thousands of years of culture and design and fine living are lost to violence in a matter of months, and it is heartbreaking."
But Hana channels this pain into her work determined to preserve the rich heritage of Arabic design through her work for all to see. In Rome, at Alta Moda, one of the most prestigious fashion shows in the world, she was named the 'Ambassadress of Arabic Fashion'. When she accepted the accolade, she was, with her customary humility, surprised at the honour bestowed on her and even asked them why they had awarded her this title. Their response warmed her heart. "Your clothes embody the beauty of the female form without overt exposure. They are sensual yet elegant," and these words have stayed in her heart since that time.
UNESCO invited her to showcase her beautiful lines at a heritage show at the UNESCO building in Paris. And yet with all these glittering events, she was part of her most memorable time was the fashion show she did in Greece, where the stage was covered with gardenias and the sight of the flowers filled her with more wonder than the glittering footlights of the runway or the applause of the crowds as her designs made it down the runway.
She has done shows all around the world. London, Indonesia, Lebanon, France, and she has met with overwhelming success everywhere. She recalls in Indonesia, she had to improvise headgear for the models at the last minute and says she thoroughly enjoyed the challenge of creating them from scarves and shawls and jewelry she had with her. Through her work, Hana has dressed queens, princesses, sheikhas, members of the elite, and she has partied with an Italian Contessa on her yacht where everyone was asked to only wear Arabic clothes. She has had some of the world's top models wear her clothes, yet through this glittering existence she has enjoyed via her professional life, Hana Sadiq is very much in touch with other realities.
Business with a heart
"I love all things that are handcrafted," says Hana with a smile. "These things possess a soul, a beauty that machine-made things never can, and so all my ensembles are individually created and use the talent of women who are skilled in embroidery and hand embellishments." Of course, this makes each gown, each robe a thing of absolute beauty, using traditional motifs, fabled Arabic love poetry, and delicate threadwork. But more than all this, Hana provides employment to a team of women who are from lower-income segments of society and acts as a mentor and guide to help these women navigate life and find financial self-sufficiency. For her, her work is a means not just of preserving dying crafts and skills but of making a world a kinder and more beautiful place in every way within her means.
While she has dined with queens, her friends are from all walks of life and from all around the world. She is equally at home in a palace as she is in a market stall in India, eating street food and discussing life with all whom she encounters.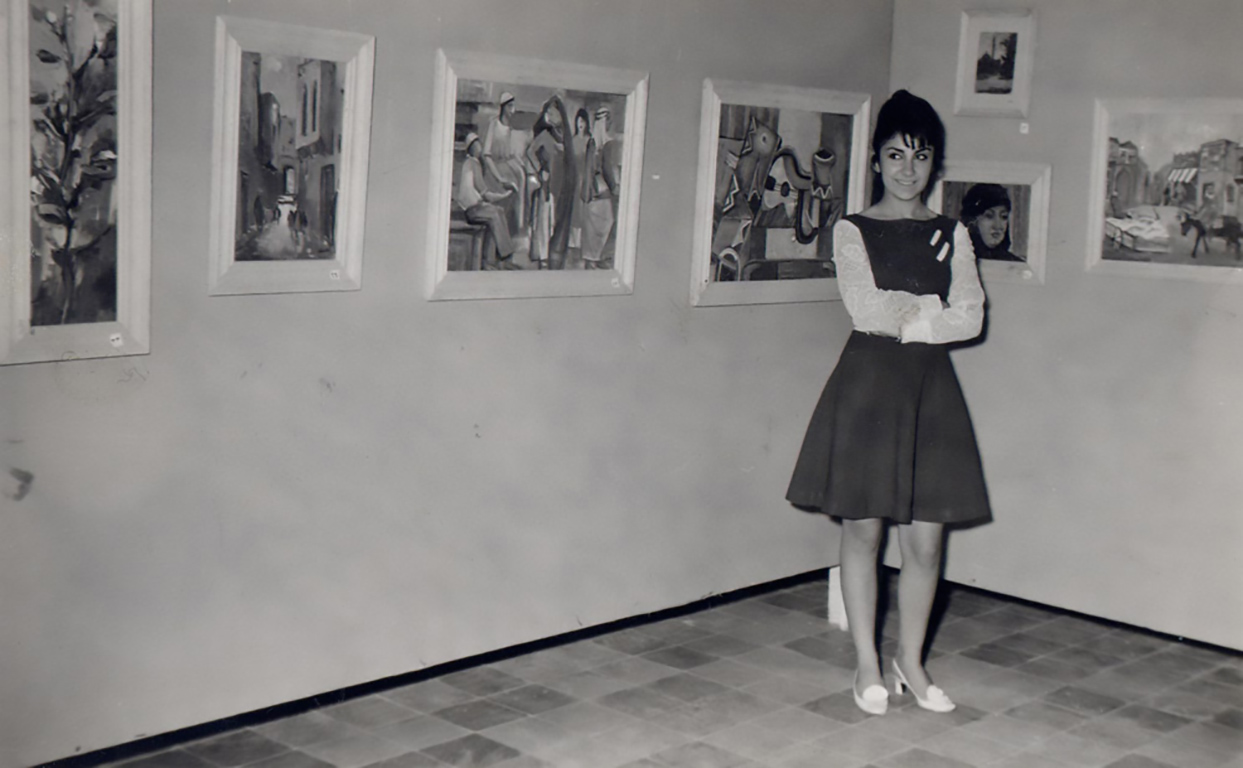 She firmly believes that everything one does should be done with passion. Kindness, honesty, and service are also forms of beauty, and one sees this in Hana's interaction with her work, her designs, her travels, the people she interacts with, and the graceful serenity she brings to all she touches. From her home to her personal attire to the food she makes to the clothes she designs, she lives life true to her ideals of beauty and elegance, which goes way beyond her couture creations that live in discerning wardrobes around the world.
She is equally at home in a palace as she is in a market stall in India, eating street food and discussing life with all whom she encounters
A legacy of a lifetime
Hana's life reads like a bestselling novel. From travel to marriage to raising children to losing it all to starting over, she is the proverbial phoenix. For 35 years, she has sustained her atelier, changing, adapting, and moving with the times. She began a pret-a-porter line but found it did not tie in with her ethos, and so despite the hard work she put into the creation of it, she let go of that venture. She travels avidly to collect fabric and ideas for her clothes. She researches and collects pieces to inspire herself and surround herself with beauty. A gifted artist in her own right, her art hangs on the walls of her own home along with other works, each one as interesting and unique as Hana herself. Her personal collection of a 1000 pieces of traditional fabrics and costumes and over 5000 pieces of antique silver jewelry is a finely curated collection that in itself documents the richness of traditions in style and fashion in and around the Middle East and the Mediterranean. Hana would love to bequeath this to a museum someday but is insistent that the collection find its way into the right hands and the right space.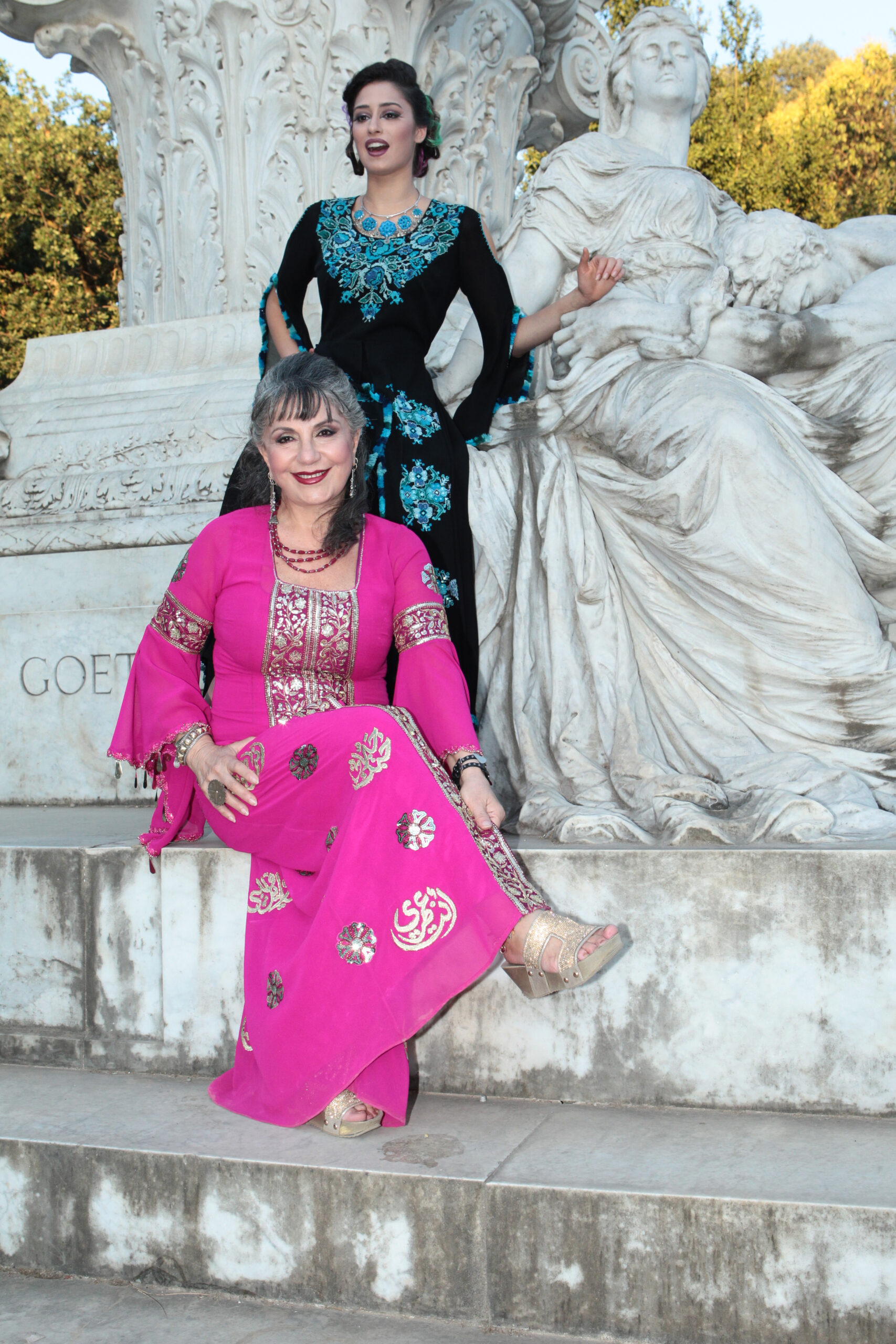 Her book, written painstakingly over almost a decade, documents the history of fabric, design, art, and culture of the region, containing over 4000 images, and was launched to rave reviews. It was used as the source for a doctoral degree by a Cambridge scholar, and she was awarded an honorary degree from Cambridge College for the creation of this unique anthropological literary effort.
With Hana the creativity never stops. She continues to plan her travels, she designs each day, her artistic mind giving shape and form to material and fabric to create garments that are collector's items. While her entrepreneurial journey started from necessity, it was nurtured with love and passion, and she is walking testimony that when you do what you love, you never really work. The flow is effortless… and you see it the tilt of her head, the graceful movements of her hand, the curve of her smile, and in the fall and flow of her designs that, like her, are the very embodiment of the feminine divine in physical form.
For more information, please visit www.hanasadiq.com